MILLION DOLLAR BONDS SET IN MAJOR DRUG OFFENDER CASE
Copy the following shortcode into your content editor section: [news-module id="530"]
A Delaware County Grand Jury returned an indictment this morning against 25-year-old Jose Jr. Del Rio of California, 34-year-old Gerardo Marroquin-Perez of Columbus, and 57-year-old Salvador Gomez of California.
This afternoon, Del Rio and Gomez each received $1 million bonds in Delaware County Common Pleas Court, while Marroquin-Perez awaits arraignment in the Delaware County Jail.
Charges for the trio come after they were pulled over on April 5, 2018 as part of an ongoing investigation.
"The men were traveling south from Toledo in two separate vehicles when they were pulled over in Delaware County," said Delaware County Prosecutor Carol O'Brien. " A search of the vehicles resulted in the seizure of a massive amount of drugs, 4.4 pounds of cocaine all coming to the central Ohio area."
Del Rio, Marroquin-Perez, and Gomez are each charged with two counts of trafficking in drugs and two counts of possession of drugs – all first-degree felonies carrying a major drug offender specification, and one count of engaging in a pattern of corrupt activity – also a first-degree felony.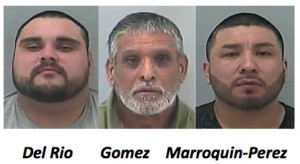 ---